Our Diva bust-enhancing garments use special bi-layered pads.These were custom-designed just for the Diva ! (patent pending). The inner surface grips your sensitive chest skin (WITHOUT DAMAGING IT!), and pulls it towards the front of your body.
The primary fabric, used for much of the rest of the garment, is a very special lace material with extended-memory properties. These properties allow the garment to be stretched numerous times, and yet still retain it's holding power!
Together, these two unique developments allow you to have truly female-appearing cleavage without the pain, suffering and hassle of earlier feminizing attempts!
Our Divas have three stays at the back to prevent rolling, and to help pull additional skin towards the front of your torso. Divas attach at the front with three adjustable hook-and-eye fasteners.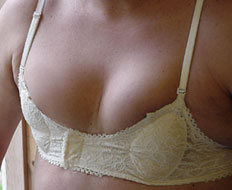 Enhancers in your favourite low-cut bra
(see bottom of page)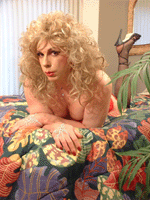 DIVA
Available to buy NOW using our secure server
£58.69 (inc VAT) £5.34 p&p
Colors:
Sexy Black or
Natural Champagne