Up until now, there were only 3 ways to get real cleavage--hormones, implants or tape. Hormones or implants mean that you'll be feminine-looking 24 hours a day, but they can be dangerous and expensive. It's possible to get realistic-looking cleavage by using tape and make-up, but this technique is extraordinarily difficult to master.
We have a FOURTH way to create cleavage...using our Diva breast-enhancing garment! The Diva is ingeniously designed to take the loose side and chest tissue you have now (and we've ALL got SOME) to temporarily create what appears to be absolutely real cleavage! (patent pending)
£49.99 (inc VAT) +p&p

Sexy Black or
Natural Champagne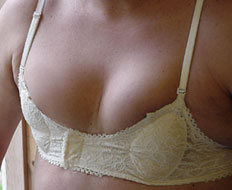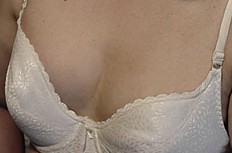 Shown with a bra over, and without Diva's detachable straps
~ ~ Diva Order Form ~ ~
~ HOW TO MEASURE ~
We need an exact measurement of your real chest size. The Diva doesn't stretch much (that would defeat it's purpose). Regular bras have quite a bit of "give" in them, which can give you a false perception of your actual bust measurement. Use a cloth measuring tape around your chest, across your nipples. If you have quite a bit of excess bust tissue (lucky you!), measure just under your "breasts".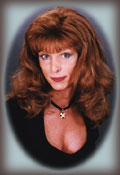 If in doubt, order 1" to 2" tighter than your regular bra size.